She is a beauty with a beastly occupation.
It's a good thing for the gorgeous Priyanka Chopra that it's a television role and not real life.
Otherwise how could she keep up with all of those photo shoots and modeling assignments?
Have you watched Quantico? Millions have and they love it.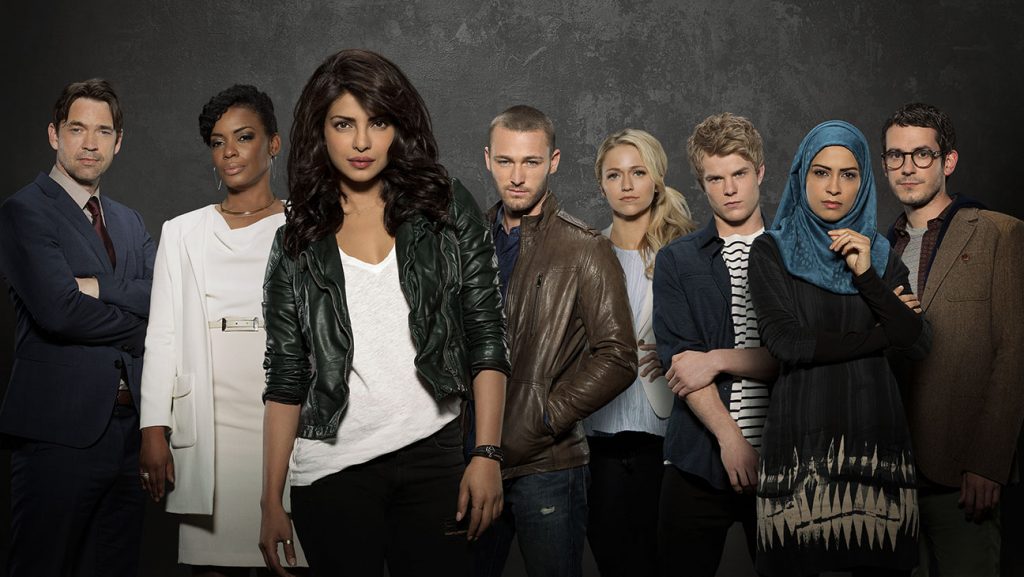 fciwomenswrestling.com article, photo credit QUANTICO – Pilot Gallery (ABC/Craig Sjodin)
Quantico is an American drama thriller series that premiered on ABC on September 27, 2015. The series was created by Joshua Safran and was produced by ABC Studios. Mark Gordon and Safran serve as executive producers.
Priyanka Chopra stars as Alex Parrish, a bright FBI recruit, who after graduating from the FBI Academy, joins the agency and later becomes a prime suspect of a terrorist attack on Grand Central Terminal.
The American Broadcasting Company is very proud of the series. At abc.go.com they provide more insight. "After the rollercoaster events of season one, in which she cleared her name, saved millions of lives, and discovered that the mastermind behind it all was the very man who had trained her at Quantico, American hero Alex Parrish was given a shocking reward: She was fired by the FBI. But in the final moments of the season finale, she was given the chance to serve her country again, in the clandestine ranks of United States' top intelligence agency, the CIA."
As they say, you should watch too.
Even if it's just to be enthralled by Priyanka's work.
She's is the author of an incredible resume. Please don't flip the channel. Let's peek inside.
Priyanka Chopra is an Indian actress, singer, film producer, philanthropist, and the winner of the Miss World 2000 pageant.
One of India's highest-paid and most popular celebrities, Ms. Chopra has received numerous awards, including a National Film Award and five Filmfare Awards. In 2016, the Government of India honored her with the Padma Shri, the fourth highest civilian award, and Time magazine named her one of the 100 most influential people in the world.
In 2008, she won the National Film Award for Best Actress and the Filmfare Award for Best Actress for playing a troubled model in the drama Fashion.
In addition to her acting career, Priyanka is noted for her philanthropic work.
She has worked with UNICEF for the last ten years and was appointed as the national and global UNICEF Goodwill Ambassador for Child Rights in 2010 and 2016 respectively. She promotes various causes such as environment, health and education, and women's rights and is particularly vocal about gender equality and feminism.
As you can see, our beauty is super busy.
In 2006, a toy company in England created a fashion doll based on Priyanka Chopra's name and image.
We love Priyanka so much that we want more.
At biography.com they add more. "Priyanka Chopra was born on July 18, 1982, in Jamshedpur, India. When she was in high school, Chopra won the Miss India pageant.
Both her parents are doctors, and her father was in the army, so Chopra's family moved quite a bit as she grew up. She studied at the La Martiniere Girl's School in Lucknow before relocating to the United States for three years. She started high school in Massachusetts before moving to British Columbia, Canada."
We knew there was more.
In all, over the course of her short career, Priyanka has appeared in nearly 50 films.
Wouldn't that be enough to fill any resume?
Hold your breath, there is more to come.
The corporate world has fallen in love with her image and brand too.
The beautiful site elle.com shares, "It makes perfect sense that the Quantico star would land a high-profile hair gig. Case in point, Pantene announced today that Chopra will join "Strong is Beautiful" campaign stars Selena Gomez and Ronda Rousey as the newest face of the brand."


We have used Pantene and love it.
Understandably word of her endorsement success would travel back home.
At hindustantimes.com they smile, "Priyanka Chopra has been roped in as the global ambassador of hair care brand Pantene. She has become the first Indian actor to represent the brand globally.
Priyanka – who is earning applause for her work internationally courtesy her American show Quantico, will be the face of the brand's new campaign."
The global news and information source latimes.com capsulizes this prize association well. "Pantene is growing its "Strong Is Beautiful" campaign. The Procter & Gamble-owned hair-care brand revealed today the latest famous face in its lineup — Priyanka Chopra, the Indian actor and singer.
"Strong Is Beautiful' is more than a campaign, it's the ethos and point of view of our brand, and all of our recent Ambassador choices are women who represent this idea," said Jodi Allen, vice president of hair care for North America at Procter & Gamble. "Priyanka is the embodiment of this spirit — she's a strong, intelligent woman, who has built a global career for herself, and has chosen roles that exemplify fierce and powerful women."
Chopra will join brand ambassador Selena Gomez in Pantene's shampoo relaunch campaign dropping in late December, for which the pair have split modeling duties — Chopra will appear in the television spots and Gomez will appear in the print ads and in-store displays. No stranger to television, Chopra is perhaps best-known in the U.S. for her leading role in "Quantico," ABC's primetime political drama-thriller."
We can understand why she is so busy. Here is a quote found at imdb.com regarding her work ethic. "I'm lucky. I don't know whether I'm deserving or not. All I know is that I work damn hard for everything. And God helps those who help themselves. Every day is like an exam. I believe destiny and hard work go hand in hand. I was studying to be an engineer when my mom and my brother sent my pictures for the Miss India contest. I didn't even know about it. If that isn't destiny, what is?
Most outsiders look at the film world as something glamorous. But no one sees the hard work that goes into it. I haven't taken a holiday in the last four years. I'm working 25 hours a day. There's no time to sleep or to eat."
Beauty, brains, charisma, a global name and an admirable strong work ethic assures us that Priyanka with be with us for quite some time.
~ ~ ~
OPENING PHOTO CREDIT BY PANTENE VIA HUFFINGTON POST

http://www.elle.com/beauty/hair/news/a41562/priyanka-chopra-pantene-global-ambassador/
http://www.hindustantimes.com/bollywood/see-pics-priyanka-chopra-is-now-the-first-indian-to-represent-pantene-globally/story-SCYXu1GP1rtennkL2AmjuN.html
http://www.latimes.com/fashion/la-ig-wwd-pantene-priyanka-chopra-20161220-story.html
http://www.biography.com/people/priyanka-chopra-090315
http://www.imdb.com/name/nm1231899/bio
http://abc.go.com/shows/quantico/about-the-show