Traveling the world in youth, free of responsibility amid high expectations is the joy of the modern day female submission grappler.
Eden Cox is one of those luminaries.
Femcompetitor Magazine had the joy of interviewing Eden and she couldn't stop talking about how much she loved Barcelona, Spain.
We can't stop talking enough about how we loved watching Eden wrestle.
She brings a fresh energetic approach to her matches to make up for her youthful grappling experience and in the three matches that we witnessed brought a lot of passion and determination.
It's also wonderful that she is very sexy.
You could categorize Eden's matches as rarely seen since San Francisco Grappling Stars is now promoting her talent.
Previous to working with Grappling Stars, Eden wrestled then San Francisco beauty Bryn Blayne who had developed a respected reputation as a Division Two journey fighter, who struggled against Division One fighters like Kara but when Bryn faced newer girls, she completely annihilated them which included popular lady pro Lucky O'Shea and newer Nor Cal cuties like Lady Evadne.
So now it's time to bring a spotlight on Eden Cox and her matches in Nor Cal. The following are the match descriptions found at:
VS SAMANTHA GRACE
Samantha Grace is a feminine, gorgeous tanned Southern California beauty. She has wrestled in over 20 matches and loves the game. Here she faces new girl Eden Cox who previously got taken out by Nor Cal journey fighter Bryn Blayne.
This is a match Samantha should win easily except that Eden has a very athletic background and is eager to atone for her Bryn bouncing.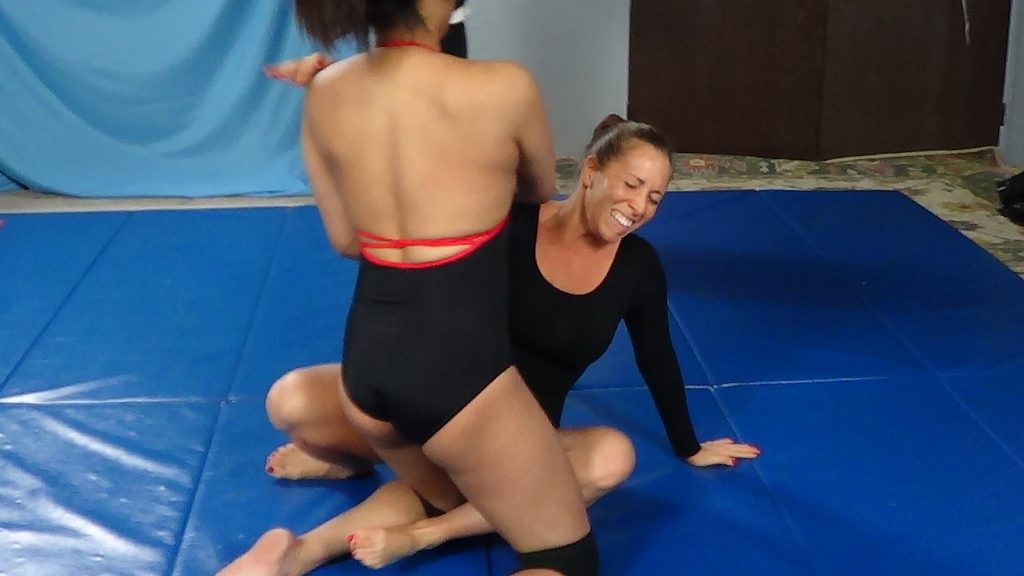 fciwomenswrestling.com article, https://femcompetitor.com photo credit
Eden is very confident and starts out extremely aggressive. Samantha is a little surprised and her pride is on the line, now the game is afoot. Very sexy aggressive, grueling action and very erotic up close. You'll love this back and forth struggle with a sexy amateur feel. You get the full interview found at GS59 plus the full energetic match. Again the GS59 interview is the same as here. Enjoy.
VS DYLAN
Everyone's tastes are different but part of the reason we have a non-traditional interview before a match that speaks to a beautiful girl's travel and lifestyle experiences is because once a girl next door type begins to competitively wrestle against another, it makes it more erotic because we feel we know them personally instead of cut and dry, just wrestle only.
When you listen to both Eden and Dylan before the match, it's clear that they are very sweet, curvy and sexy so when they wrestle, we salivate for the close up camera views of their ground struggle. Though both girls have a few matches under their belt, they are still fairly new and that's the sexy up close excitement. The outcome of this battle is in doubt right up until the end. Enjoy.
VS OLIVIA D'ANGELO
Olivia has been around the competitive female wrestling scene for some time. She is a tough girl out of San Jose CA. Young, feminine, sweet Eden agrees to take her on with only a few bouts under her belt and at this point, no victories. As you would expect, Olivia was relentless and merciless completely dominating Eden who put up a strong fight but given Olivia's rage agreed the fight should be called early. It was. Enjoy the fight up close, erotic and personal.
Thanks San Francisco Grappling Stars.
Now about Barcelona. Like Eden, have you ever been?
We've heard so many wonderful things about it and we have a visiting female writer who is going to take us on a tour. Please enjoy.


5 Things to Do During Summer in Barcelona
Regardless of the season, the city of Barcelona has no shortage of activities to enjoy. However, the Mediterranean sun during the summer months seems to amplify these possibilities, offering visitors an almost overwhelming array of places to visit and tours to take. For this reason, we've taken the time to highlight what we believe to be some of the most memorable things to do in the Catalan capital during the warmest season of the year. From picnics to nightlife and everything in between, here is your guide to the 5 best things to do in Barcelona during summer:
Hit the beach
When the city is at its hottest, one of the best ways to embrace the sun is by heading to the nearest beach. Luckily for visitors of Barcelona, the "nearest beach" is actually a 4.5 km stretch of pristine coastline which is home to more than 7 different beaches.
For those adventure seekers looking for a lively experience, check out Barceloneta Beach, the city's most popular and active 'playa'. During the day, Barceloneta is a prime area for visitors looking to participate in beach sports like volleyball and there's plenty of space to relax in the sun.
Existing in the centre of Barcelona's nightlife strip, Barceloneta is also just a short walk away from many famous bars and clubs which during the day are transformed into relaxing spots to enjoy a drink – beachside. What's more, there are plenty of typical "chiringuitos" (beach bars) situated right on the sand like Princesa 23, perfect for a cooling cocktail or two.
If you prefer a more relaxing and tranquil beach setting, we suggest heading to Nova Mar Bella Beach. Here you'll be among a calmer crowd, likely to be lounging and possibly catching a quick siesta on the sand. When all the beach activity sparks your hunger, we recommend you stop by one of the many beachside restaurants, prime spots that offer all the ingredients of an exceptional dining experience: fresh seafood, paella, a cool beverage and an incredible view of the Mediterranean Sea.
Summer nights in Barcelona
When it comes to Barcelona, it's only possible to experience half of the city's amazing activities unless you are willing to postpone bedtime a bit. Well known for its wild nightlife, Barcelona is the place to be for some hot summer tunes and a fun evening on the town.
A night out in Barcelona would not be complete without stopping at Port Olímpic. This short strip sits just steps off the beach and is home to some of the most popular "discotecas" in Barcelona, such as Opium Mar and Shôko. Be sure to bring some comfortable dancing shoes, however, because at these clubs the party doesn't stop until the wee hours of the morning.
For a more culturally diverse night scene, why not check out some of Barcelona's traditional bar spots? Although more difficult to pick out than the more rowdy bars and clubs, local bars in Barcelona are the ideal place to get a taste of authentic Spanish tapas, quality cocktails, and friendly culture. Why not try a blast from the past experience at Smoll (Comtessa de Sobradiel 9). This well-hidden, vintage spot offers its guests some exceptional cocktails at affordable prices.
Tasty treats to beat the heat
When you're feeling peckish during your summer stay in Barcelona and you've had your fill of traditional paella and tapas, there's really only one decision that needs to be made: cup or cone.
Wander down any street of the greater Barcelona area and it won't be long until you stumble across one of the city's numerous "gelaterías" like the Italian "Amorino" which has many ice cream parlours dotted around the city centre, or the quirky "Eyescream and Friends", located by the beach on Passeig de Joan de Borbó. This freezing cold, sweet treat is the ideal snack for any Barcelona-goer looking to cool down.
Picnic in the Park
In order to scratch two things off your list at once, we suggest a quaint picnic with friends and family while looking out at the magnificent view of Barcelona from the beautiful Park Güell. This architectural masterpiece designed by Barcelona's most prominent artistic mind, Antonio Gaudí, is one of the city's must-see attractions. Park Güell embodies Gaudì's love for color, as walls, fountains and even benches are covered with vibrant tiles. Plus, his use of unusual shapes and unorthodox designs are sure to inspire the kid in us all. So take a couple hours out of your day to venture out to this beautiful area and enjoy lunch while overlooking the city.
Festivals and Celebrations
Known widely for its cultural pride and appreciation, Barcelona comes together several times throughout the year to celebrate different holidays, both religious and otherwise. Those visiting in the summer months, however, are lucky enough to experience the city during the period in the year where some of the best and most exciting festivals take place.
One of the biggest and most popular Barcelona town festivals is the Festa Major de Gràcia. This massive street party takes place in the district of Gràcia for the entire week of August 15th. During this week, daily parades and traditional festivities take centre stage while human towers known as Castellers shock and awe the crowds. The main attraction of this fiesta is the competition of the "best decorated street" where the "calles" of this trendy neighbourhood are adorned with vibrant and colourful homemade decorations.
Although there are other widely known Barcelona summer festivals such as the Sònar music festival and the fiery Nit de Sant Joan, the Festa Major de Gràcia is one of the best examples of local Barcelonans and global visitors alike, coming together for friendly celebrations.
Staying in Barcelona During Summer
Barcelona is an incredible city, home to some amazing summer activities, and one of the best ways to make the most of your sun-filled days in the city is to rent one of the many holiday apartments in Barcelona. From beach apartments to those situated right in the city centre, you'll never be far away from a fantastic activity, attraction or even ice-cream parlour! Plus, with many apartments accommodating large groups of people, you can enjoy a great stay in the city with family and friends. Here you can wake up every morning to the crashing of the Mediterranean and have access to all the wonderful sites and scenes that the city has to offer.
Apartment Barcelona offers more than 900 Barcelona apartments for short or long-term stays. From luxury Barcelona apartments to studio apartments in Barcelona, we have a wide variety of accommodation all across the city. With beach apartments in Barcelona, sea view apartments, Ramblas apartments and Beach apartments, you are sure to find your perfect Barcelona accommodation here.
~ ~ ~
OPENING PHOTO By Diego Delso, CC BY-SA 4.0, https://commons.wikimedia.org/w/index.php?curid=46572596
http://grapplingstars.com/fvsf-wrestling-videos/
http://ezinearticles.com/?5-Things-to-Do-During-Summer-in-Barcelona&id=7803330
Article Source: http://EzineArticles.com/expert/Hollie_Morton/1181750
Article Source: http://EzineArticles.com/7803330