If an incisive, poignant, well written and extremely funny television show can help cement a friendship, enabling two countries to be friends for life, then SCTV did its job and more.
SCTV (Second City Television) is a Canadian television sketch comedy show offshoot from Toronto's Second City troupe that ran between 1976 and 1984.
It presented some of the funniest stars in the early stages of their brilliant careers that would later shoot to super stardom in Canada, America and around the world. The cast included John Candy, Robin Duke, Joe Flaherty, Eugene, Andrea Martin, Rick, Catherine O'Hara, Harold Ramis, Tony Rosato, Martin Short and Dave Thomas.
SCTV was almost on ABC. The network's late night decision maker "loved" what he saw of the pilot, but ABC President Fred Silverman overruled him, saying the show was "too intelligent."
The eternal wrestling Star Brandy with friends and associates created one of the most entertaining, erotic and timeless women's wrestling venues with Raslingal and Leather and Lace Productions.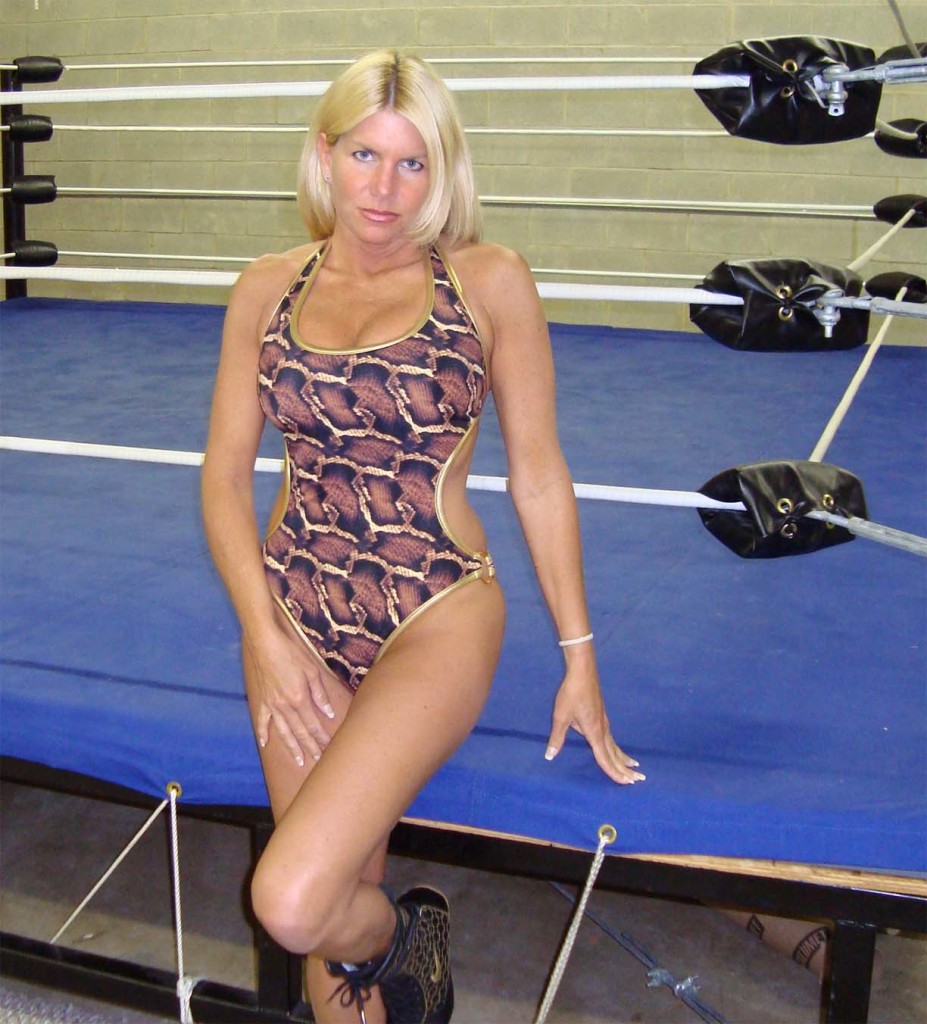 It's a setting where industry giant and WBI Super Star Catfight Jen got frisked and wrestled in a sensuous bathing suit and pro wrestling boots. It's where So Cal Giant Jezebel, sometimes known for losing her temper…..well lost her temper and almost got into a fist fight with another wrestler. It's a studio where Michigan luminary Sybil got a chance to try her hand at acting and acted out on her Sybil like personalities.
It you like watching shapely beautiful women in bathing suits slowly climbing through the ropes and presenting you with a nice rear view (no mirror required), getting frisked from head to toe and wrestling in throw back old school fashion, then you've come to the right place.
Brandy says, "I am blonde 5'3″, 115 lb., 36d 25 35, with a great hard body. I do fantasy to semi comp wrestling matches and fantasy boxing."
Innovative, beautiful Brandy, Mistress of the ring invites, "Hello Fans! Welcome to my Ultimate Female Fighting Site, and Fan Club. Come inside and see me and my friends battle it out, in and out of the ring. If you love wrestling, cat fighting, boxing, kickboxing, karate — then you have come to the right place.
Also see fetish and fantasy scenario wrestling, pantyhose, nylons, trampling, foot worship, smothering, and a lot more, join me inside. ALL original content!! Exclusively mine!!
So….Are you ready to rumble??"
Yes, but can we tumble too?
Having purchased a number of Raslingal products over the years, our group can say that the product always exceeded expectations. One of the aspects that I loved about Brandy's appearances is that if you didn't do any homework, you would never know that she is the teacher and boss. With a shapely, sensuous Soccer Mom look and soft blonde cascading hair, you might think that she was just another girl hanging out.
Not purposely standing out.
At Leather and Lace Productions they proclaim, "For all connoisseurs of exotic and erotic females in combat. With our extensive video collection, you should be able to find the perfect videos and DVD's to satisfy your desires. Featuring cat fighting, wrestling, boxing, naked muscle, exotic mixed wrestling, pantyhose and more. As always, all of our videos are in stock and ready to ship to you."
We absolutely loved their products too. Especially the sound effects of the boots hitting the mats.
When it comes to customer service and sessions, Brandy continues to surpass and delight. Here are a few gushes and blushes from customers.
"Since this was my first session, I was a bit apprehensive, but she was so nice, I felt relaxed right away. She was in control right from the start, and instinctively knew exactly what to do. She completely dominated me throughout the entire session. She is very fast, agile, and very strong. She is very pretty and has a terrific personality. A pleasure to be with."
More gushing.
"I just had a session with Brandy and it was everything I could ask for in a session. First off she looks great, and wrestles great too. Very fast and quick, and very knowledgeable with her holds. Perfect combination of pure wrestling skill to put you in pain, with a great personality to dominate, & humiliate you while putting you in pain. She wore me down with a variety of holds, and her legs were breathtaking (literally). The only thing I could ask more of was for it to last forever."
No shushing. Keep going.
"Let me say, her pics are nice but she is even better in person. I was looking for a semi-competitive match…A petite toned athletic lady with unusually long legs for her height…we agreed on some rules and then we began to wrestle.
Brandy is fast, strong and very knowledgeable of holds. I have had many sessions over the years and a lot of ladies claim to be the real deal…few are…but let me say Brandy is!! Not only can she wrestle but she is an excellent conversationalist and listener.
She was generous with her time. Brandy was able to get many submissions out of me during our session. …I can't say enough about this gal, except that I hope I can get back to Baltimore soon as I think she has found herself a regular! "
I'm certainly convinced.
This writer is convinced of something else as well. Brandi truly is one tough customer.
When many female wrestling stars engage in scripted or real matches exclusively in their own realm where they are the boss, the questions becomes, how would they fare in a non-scripted match outside of their protected war zone, not against a jobber (which have caught some by surprise) but against a tough mat fighter from another company?
Brandi answered that question for us when she wrestled an Eastern Cat Fighter by the name of Pandora on the Easterner's turf.
When I first saw that match I wondered what in the world Brandi was thinking of to accept an extremely dangerous assignment like that?
Dangerous though it may be, Brandy dressed in an incredibly sexy white bathing suit found herself in engagement on the infamous red mats against a snarling Pandora ready with facial slaps, body whaps and verbal taunts. The two went at it like wild kitty cats complete with body scissors and painful moans and groans.
It was one erotic claw classic.
As of this May 2015 writing, Brandy hails from Maryland.
Maryland is a state located in the Mid-Atlantic region of the United States, bordering Virginia, West Virginia, and Washington, D.C. to its south and west; Pennsylvania to its north; and Delaware to its east. Maryland was the seventh state to ratify the United States Constitution.
Maryland is also considered to be the birthplace of religious freedom in America, dating back to its earliest colonial days when it was made a refuge for persecuted Catholics from England by George Calvert, the first Lord Baltimore, and the first English proprietor of the then-Maryland colonial grant.
Maryland is one of the smallest states in terms of area, as well as one of the most densely populated states of the United States. Maryland has the highest median household income, making it the wealthiest state in the nation.
The informative site visitmaryland.org welcomes, "Get ready to surf the beaches of Ocean City, ride the rapids where Olympians train, scale rock-faces unlike anything else on the East Coast, and tear through some burly single-track mountain trails on your 29er.
Welcome to the truly great outdoors. Gallop across fields and over fences at an exhilarating steeple chase, take a turn at jousting, the Maryland state sport, or just get out for a gentle day on horseback by the bay. Fly fish on mountain streams, bowfish for 50 pound catfish on Southern Maryland Rivers, hit the open bay for prize rockfish, try your luck casting from ocean beaches, or board a charter and head out to the Atlantic canyons from Ocean City, White Marlin Capital of the World. Hook up with world-famous guides for birding on the bay, bag a wild, Thanksgiving turkey, go for big game black bear, or hunt for the wily and exotic sika deer of the lower Eastern Shore, or bring your camera for a paddle through the gorgeous Blackwater Wildlife Refuge and capture the moment as a bald eagle's talons break the glass-smooth surface of the Chesapeake."
We can't forget the great Colonial city of Baltimore. There is so much incredible early American history that still lives and breathes down most city streets. It's a city with a history that speaks to authentic early American family life. No film seems to depict that better than Avalon.
Avalon is a 1990 drama film directed by Barry Levinson. It is the third in Levinson's semi-autobiographical four "Baltimore Films" set in his hometown during the 1940s, '50s, and '60s: Diner (1982), Tin Men (1987), Avalon (1990), and Liberty Heights (1999).
The film explores the themes of Jewish assimilation into American life. It's historical, moving, powerful and extremely sad. It speaks to what we as Western Society have lost in terms of family.
Brandy sure chose a great state to live in.
The color of the trees, the variety of outdoor activity, the extensive rich colonial history and the proximity to the United States Capitol, makes living in Maryland a truly unique experience.
As a Fem Competitor, Brandy has a rich history in the women's submission wrestling world and given her beauty, talents, sensational people skills and creativity; no doubt a bright future as well.
~ ~ ~
Some may find other women's wrestling sites erotic in nature. If you are offended by depictions of women wrestling in erotic situations, please exercise caution in visiting women's wrestling sites.
Femcompetitor.com subscribes to fciwomenswrestling.com news source, no affiliation.
Sources: brainyquote.com, Wikipedia, fciwomenswrestling.com, fciwomenswrestling2.com, FCI Elite Competitor, https://femcompetitor.com, photos thank you Wikimedia Commons.
http://www.visitmaryland.org/things-to-do/outdoor-recreation
http://www.maryland.gov/pages/visitors.aspx
http://www.leather-lace.com/home.html
http://www.raslingal.com/home.html
http://www.avclub.com/article/10-episodes-that-make-the-argument-for-isctv-ias-o-91753
http://www.imdb.com/title/tt0075578/
wb270.com