Joseph P. Bradley is best remembered as being the 15th and final member of the Electoral Commission that decided the disputed 1876 presidential election between Republican Rutherford B. Hayes and Democrat Samuel J. Tilden.
Time will always remember him.
He was once quoted as saying, "Brutes are governed by their appetites and impulses. Savages are but little removed in this respect from brutes. Brutish men and coarse natures are mostly led by their impulses, appetites and passions. The true nobility of our nature is evinced by self-control, which restrains, governs and subdues the impulses, appetites, passions and desires.
There are many qualities that I have always admired about the regal, statuesque sensuous British wrestler Luna. She's quiet in spirit, soft spoken, athletic, talented, strong, dedicated, loyal to friends, reliable and more. She also possesses a quality so many do not in this modern world.
Self-control.

This is clearly evident in her wrestling.
Our scouting report on Luna's matches paints a portrait in restraint and self-control.
She has competed in many matches but three come to mind that illustrates our analysis. All three were London Wrestling Studio competitions.
Against the formidable and dangerous Karmen she found herself in a protracted ground war complete with excruciating body scissors, tactical upper body maneuvers, concentrated chokes and a battle that required extensive stamina. Yet she exercised self-control and never showed any anger or strain.
When she took on the feminine, shapely and gorgeous Laken, this was a match where Luna clearly could have exerted her MMA dominance but wrestled retrained, almost keeping herself at Laken's talented but less experienced level. Blessed with strong legs through rigorous training, Luna was clearly in control the entire match with superior tactical skills but almost fought at an even pace.
Wilfred Benítez is a former boxer and youngest world champion in the sport's history. Earning his first of three career championships in separate weight divisions at the age of 17, he is remembered best as a skilled and aggressive fighter with exceptional defensive abilities. I compare him to Luna because he had a way of fighting up or down to the level of the opponent he faced. His match against the great Sugar Ray Leonard is legend.
When she faced off against one of my UK favorites in the super sexy Justice, once again she seemed to let her foot off the gas. Justice is talented and has won her share of matches but our analysis is that she in not at Luna's skill level especially when you add the martial arts training into the mix.
Against all of her opponents, I have never observed Luna displaying anger or questioning the tactics of those she competes against. She accepts the proceedings with grace and dignity while remaining emotionally engaged.
This speaks well to Luna's sessions.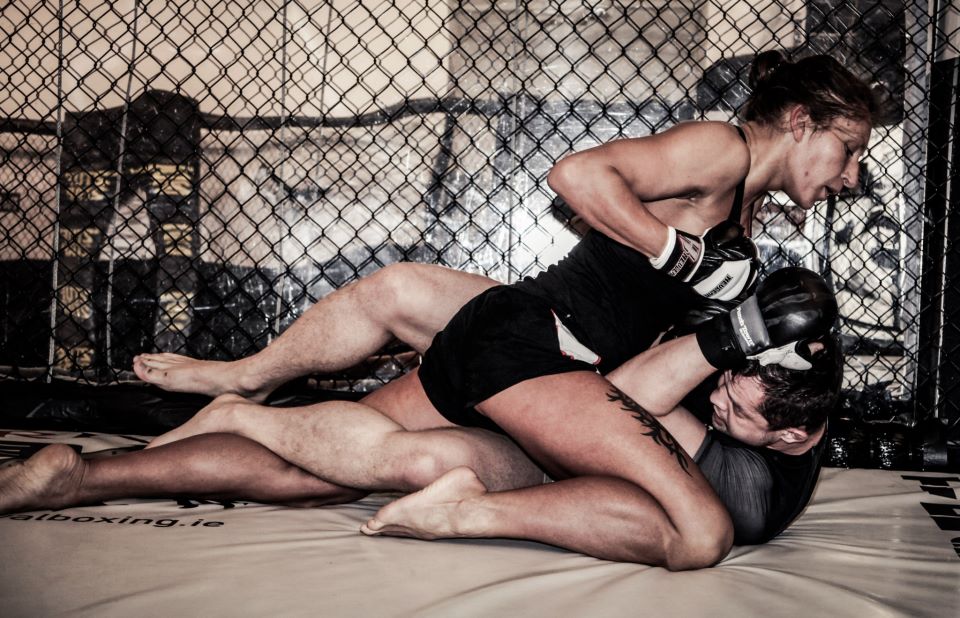 Having a great session with a customer often depends upon the beautiful female wrestler's ability to yield, accommodate and regulate her emotions.
Here are some of the compliments from her satisfied customers.
"I immediately noticed her technique has shifted up a gear or two. She has monster strong legs which, combined with her much used half leg lock, frustrated many an attempt by yours truly to gain the upper hand. Luna is also very able to defend with the elbows and arm, and seems to be much more in to joints and chokes [including a successful triangle these days than pins. We were not counting points but had we been, she would have won. Thanks Luna for the session."
The love for Luna keeps flowing.
"Had a session with Luna today and can honestly say it ranks in my top 5 sessions of all time.  First off Luna was at the studio early ready and waiting for me. Luna is an extremely fit good looking woman. She carries no excess fat and you can instantly see that this lady trains hard. Luna is lovely woman, has a hot figure and a great personality."
Femcompetitor Magazine agrees.
In addition to that, Luna appears to be a team player. Our great industry needs more wrestlers like that. Here is what the great London company, Alpha Femmes expressed about our sexy girl.
"Lovely Luna is the tallest our Alpha Femmes! She has been training in martial arts for over 7 years. Beginning with boxing, then freestyle wrestling, BJJ, Muay Thai and then MMA.  Alpha Femme UK's Luna has a very broad skill range; just pick which technique you want her to use. She trains regularly in strength, cardio and technique. This makes her one of the most versatile and talented wrestlers about on the scene right now.
Luna's favorite holds are the reverse triangle; guillotine and the anaconda choke (don't give her your back or your neck!) Her favorite session type: semi comp and comp.
Luna is available for video work. Luna is London based, but she is available in other UK locations with sufficient notice."
We have described some of her matches above and her group is singing the company song as well in terms of her match abilities during matches.
"An intense match between two physically evenly matched athletes. This is Luna's first competitive grappling match against another female and Hungarian visitor Leona has only been wrestling for a few months also. Both wrestlers are intent on body scissoring the other, but both know the most effective way to stay out of body scissors is to tangle up your opponent's legs – locked up limbs dominate the beginning of this match in particular. You can't say these two aren't trying – the other wrestlers felt tired just watching them go at it!"
An intelligent and accommodating session provider, let's allow Luna to speak for herself. ""I am an independent wrestler based in London and the Submission Room.  I also work for a MMA gym in central London and have been boxing amateur for 5 years now.  I have just taken up BJJ and my aim is to fight MMA.  I am willing to travel around the UK with notice."
If you make a decision to session with Luna you could certainly make a day of it. There are a number of fine eateries with delicious food at a reasonable price in East London.
A wonderful UK tour guide, the fun site timeout.com is ready to treat us to a sandwich. "There's plenty to heart in Hackney, where high art and edgy innovation meet. There are flavors to savor from its lip-smacking restaurants, not to mention world-class coffees (Square Mile coffee beans, anyone?). Quirky, scruffy, sleek or hip – the area's bars and pubs suit whatever taste you're packing, as do its diversions (you're seriously spoilt for things to do). And if money's still burning a hole, Hackney's shops and markets sell temptation by the truckload, from vintage fabrics and designer must-haves to rare meats and artisanal bread."
Here are two eateries that have my taste buds dancing.
They continue, "If a restaurant is named after the cured back fat of a pig, you can expect that charcuterie is among its specialties – and so it is here. But lardo itself isn't on the menu at Lardo, except as a pizza topping, so our charming, clued-up waiter bought a plate specially. It was excellent, as was the paper-thin fennel pollen salami.
Other small plates on the short menu are divided into 'cold' (simple but satisfying puréed cannellini beans with black olives), 'warm' (an unctuous bowl of braised chicory and melted fonduta cheese topped with speck) and 'hearty' (Venetian lamb's kidneys). There's also a couple of own-made pasta dishes and a handful of pizzas with novel, tasty toppings such as goat's curd, anchovy and sprouting broccoli."
Not to be outdone, the fantastic information site theguardian.com shares this review about Beigel Bake, Brick Lane. "The tile work at this Brick Lane bakery has seen better days, but then you might look a bit tired yourself had you been serving fresh breads, pastries and filled bagels to hungry Londoners, 24 hours a day, 7 days a week since the late 1970s. Beigel Bake is a legendary stop-off for late-night revelers, but you will find queues of varying lengths here whatever time of day you drop by. In a place where filled bagels start at 90p, spending £3.50 on one may seem rash. But the warm salt beef bagel is worth it. Tasty, moist, gelatinous thick-cut braised brisket on a fantastic dense, chewy bagel, served with peppy mustard, it is simple but satisfying stuff."
As of this June 2015 writing, our sexy British Maiden Luna is running a special on her sessions at an incredibly low price. Even if you read this after June, given Luna's reputation for excellent customer service, adaptation and self-control, you still might desire to contact her.
Luna is a rising star in our female submission wrestling world. Blessed with earned skills, athletic prowess and desired internal qualities, Luna is a luminary to watch and enjoy.
~ ~ ~
Some may find other women's wrestling sites erotic in nature. If you are offended by depictions of women wrestling in erotic situations, please exercise caution in visiting women's wrestling sites.
Femcompetitor.com subscribes to fciwomenswrestling.com news source, no affiliation.
Sources: brainyquote.com, Wikipedia, fciwomenswrestling.com, fciwomenswrestling2.com, FCI Elite Competitor, https://femcompetitor.com, WB270.com, dwwgalaxy.com, photos thank you Wikimedia Commons.
http://wrestlerluna.moonfruit.com/#/testimonials/4570571751
http://honeylws.tumblr.com/post/83119181216/heres-ultra-violet-vs-luna-at-london-wrestling
http://www.timeout.com/london/things-to-do/hackney-area-guide
http://www.theguardian.com/travel/2011/mar/25/east-london-cheap-eats-restaurants
http://alphafemmesuk.com/